Dreams to Awaken the Soul of Humanity
We need only look within to find the indwelling guidance of our dreams, able to open our minds and hearts to a more soulful way of being.
Melinda Powell
Author, Dream Guide, Trainer, Lucid Dreaming Authority

If you could find a guide whose compassionate understanding directly connects you to your innermost feelings, shows you how your fears may limit you, and frees you to express your soul's deepest longing in the world, wouldn't this be a wonderful opportunity? Yet we need only look within to find the indwelling guidance of our dreams, able to open our minds and hearts to a more soulful way of being, both in dreams and waking life.
Waking Up to the Potential of Dreams
---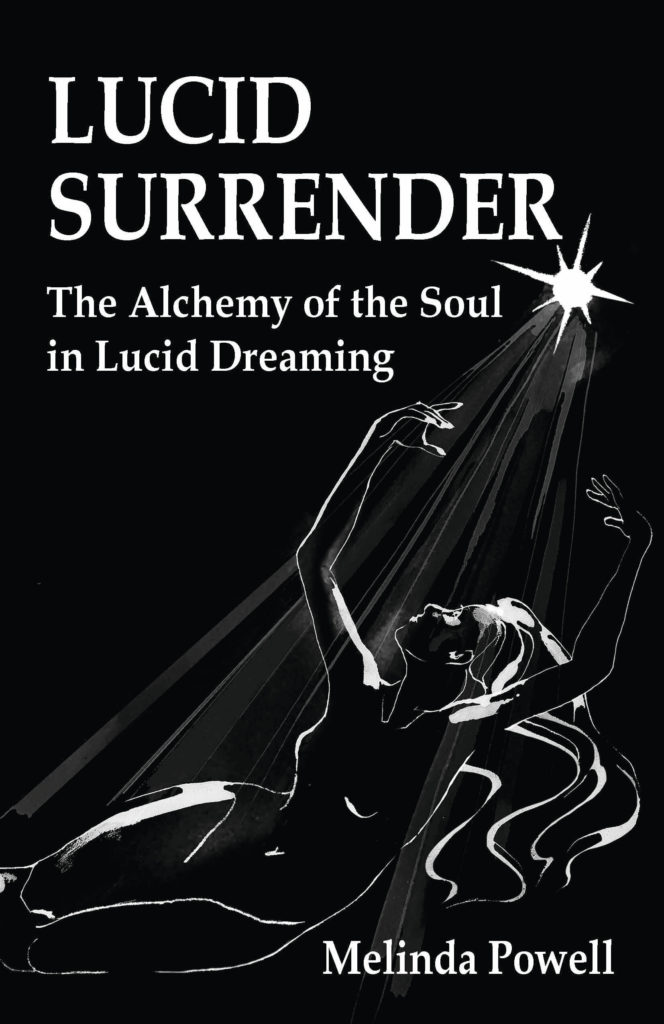 Books
For the Day & Night
"With Lucid Surrender, Melinda Powell makes another valuable contribution to the field of transpersonal psychology and, more widely, to humanity." – Diane Greig, PhD, Founder of the Pacific Northwest Dream Community, Canada, Creator/Host of Invisible Women, The Podcast
"The Hidden Lives of Dreams is a great contribution towards healing the deep wounds of our dreaming soul at the present time….A book that is an illuminating guide both to those who pay close attention to their dreams and those whose dream life is an unexplored country." – Anne Baring PhD, Author of The Dream of the Cosmos: A Quest for the Soul
The path of Lucid Surrender unveils a radically new approach to exploring the realm of lucid dreaming. A must read for those who seek a direct encounter with the eternal part of their being-ness.
– Robert Waggoner
Author of Lucid Dreaming: Gateway to the Inner Self
Lucid Surrender is a gift to all those interested in the mysteries of dreaming, the depths of psychological and spiritual life, and the process of soul making.
– Stanton Marlan, PhD, ABPP,
Jungian Analyst and Author
About Melinda
Author, Speaker, Dream Guide, Trainer, Pioneer of Lucid Surrender
Since my early twenties, I have followed my dream guidance, which has led me from Southern California, where I was born, to Europe, where I have lived and worked for over thirty years. During this time, I have directed many new programs: the English Department of a Teacher Training College in Poland, a training program for United States Peace Corps volunteers in Lithuania, a summer school in Switzerland, and the charitable counselling service HELP in England, which I ran for 7 years. In 2012, I co-founded the Dream Research Institute in London, which I also directed for 7 years.
I now focus on writing and offer a limited number of dream guidance sessions to individuals and groups online both short and long-term. In my work, I bring together my training and interest in Nature, literature, psychology, metaphor, sacred traditions, alchemy, dreams and dream lucidity. In 2021, I published my latest book, Lucid Surrender: The Alchemy of the Soul in Lucid Dreaming, which offers readers a new way to be with the unknown so they can intimately know and express the deep Mystery at the heart of life.
MA Psychology of Religion, Heythrop College, University of London, 2003
Post-graduate training in transpersonal psychotherapy and Diploma in Hatha Yoga.
12 years psychotherapist (Currently, Non-Clinical member of the United Kingdom Council of Psychotherapists doing trainings in dreamwork and lucid dreaming)
12 years Member and Past Vice President of The International Association for the Study of Dreams, presenter at numerous IASD conferences both in person and online.
Online Lucid Dreaming Courses, DRI
Tuesdays, January 31st – November 7th, 2024, 4-6 participants
The Essentials and Advanced Lucid Dreaming Courses online draw on the Waking Dream Process and alchemy to explore lucid dreaming as a means of psychological and spiritual transformation. (Certification & CPD credits)
The Hidden Lives of Dreams Webinar
Spring 2024 Dates TBC, 4:30 – 5:50pm GMT, 4-6 participants
This online, seven-week introductory course offers a multi-dimensional look at dreams through the practice of the Waking Dream Process. Together, we develop a deeper awareness of dreams and how they can influence our lives. (CPD Credits)
Recent Podcasts & Upcoming Events
Resources, Reviews & Publications